Nahum and Obadiah are single-minded minor prophets, each predicting the destruction of one of  Israel's enemies.
Nahum is a three-chapter oracle about the destruction of Nineveh, capital of Assyria. It's all bad news for Nineveh—"the city of blood, full of lies, full of plunder, never without victims" (3:1-2)—from beginning to end without the happy postscript some of the minor prophets include.
Here's the conclusion:
Nothing can heal you;
your wound is fatal.
All who hear the news about you
clap their hands at your fall,
for who has not felt
your endless cruelty?
The inhabitants of both Israel and Judah had good reason to despise the Assyrians. The Assyrian Empire under Tiglath-Pileser III (ruled 745–727 BC) subjugated much of the Middle East. Tiglath-Pileser III shows up in 2 Kings invading Israel and demanding tribute during the reign of  Menahem (2 Kings 15:19-20) and then conquering part Israel during the reign of Pekah (2 Kings 15:29). The final king of Israel, Hoshea, was an Assyrian vassal whose rebellion and attempted alliance with Egypt resulted in an invasion by Tiglath-Pileser's son and heir Shalmaneser V. The Assyrians besieged Samaria for three years before capturing it around 720 BC, deporting many of the Israelites (the "ten lost tribes") and resettling it with people from other conquered nations. The Assyrians under Sennacherib (ruled 705 – 681 BC) captured much of Judah and besieged Jerusalem under Hezekiah as recounted in 2 Kings 18-19. Nineveh finally fell around 612 BC to an alliance of its former vassals and was razed.
Here is the (unfinished) Nahum drawing our Sunday School artist-in-residence, Naomi Friend, produced: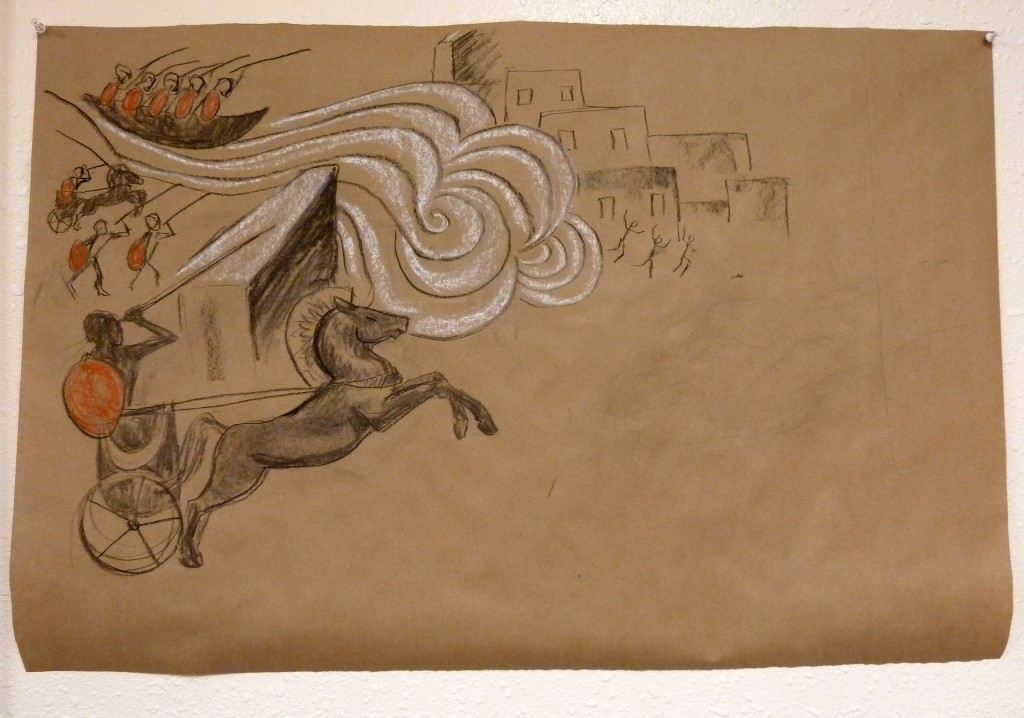 The drawing depicts both the military  invasion of the city and "overwhelming flood [the LORD will use to] make an end to Nineveh." (Nahum 1:8).
I missed this class, but Naomi tells me she was attempting to reproduce the style of two-dimensional ancient Egyptian art. This is how far she got during our hour-long class.
Obadiah is the most minor of the minor prophets and the shortest book in the Old Testament—he uses just 21 verses to prophecy the destruction of Edom, Israel's neighbor and kin (said to consist of the descendants of Jacob's brother Esau).
Edom is condemned for standing "aloof while strangers carried off [Israel's] wealth and foreigners entered his gates and cast lots for Jerusalem, you were like one of them" (v. 11). This may refer either to the destruction of Jerusalem by Nebuchadnezzer in 586 BC (see Psalm 137) or some earlier event.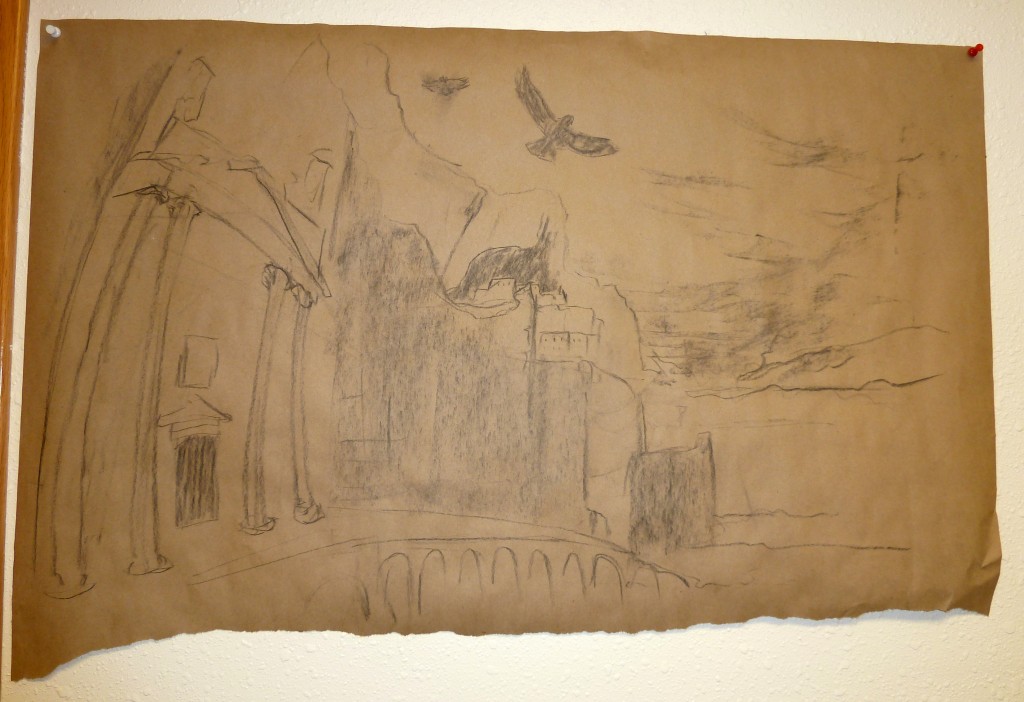 We covered Obadiah and Habakkuk (another one-chapter prophet) during one hour so Naomi spent just 15 minutes on this drawing, which shows the ancient city of Petra, which was in Edom. Verses 3-4 make a suitable caption:
The pride of your heart has deceived you,
you who live in the clefts of the rocks
and make your home on the heights,
you who say to yourself,
'Who can bring me down to the ground?'
Though you soar like the eagle
and make your nest among the stars,
from there I will bring you down,"
declares the Lord.
I'll post Naomi's Habakkuk drawing in my next post.
This is the fifth post of Naomi's art from our Minor Prophets Sunday school class. Previous posts were on Jonah, Amos, Hosea and Zephaniah. Naomi's professional art is available at naomifriend.com.